Excerpted from WSJ's
TIME Story Prompts Support for Controversial Buddhist Monk
, 24 June 2013
The president's office
, in its response to
TIME's cover
, said Myanmar does not discriminate against any religious group, and grants constitutional freedom to those practicing any religion including Islam....
Mr. Ramakrishnan believes that "further radicalization of some Buddhist elements" is almost certain to continue in Myanmar, evident through the large following behind the radical monk.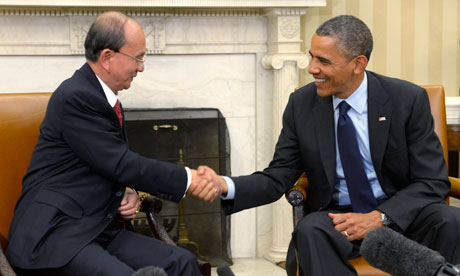 President Barack Obama shakes hands with Burma's president, Thein Sein in the Oval Office. Until two years ago the former general was on a US blacklist. Photograph: Shawn Thew/EPA
Maung Zarni
, a Burmese academic at the London School of Economics and a close watcher of Myanmar developments, pointed out that the statement was specifically released in Burmese, indicating that "it is meant for domestic political consumption." This, he argues, was issued to make the government popular in the eyes of the bulk of Buddhists who fear the country's Muslim minority.
Click
here
for the full text of the WSJ blog by Shibani Mahtani.